Capito Re-Introduces Bill to Increase Access to Care for Rural Veterans Suffering from Traumatic Brain Injury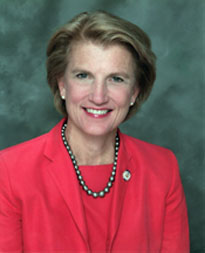 CHARLESTON – As the nation honors America's military men and women, Rep. Shelley Moore Capito, R-W.Va., today announced that she has re-introduced legislation designed to improve access to care for rural veterans suffering from traumatic brain injury (TBI).
Capito's bill – the Veterans Traumatic Brain Injury Access to Care Act – would establish state-level pilot programs with partnerships between local medical professionals and the Department of Veterans Affairs, enabling local providers to support treatment efforts for geographically-isolated veterans.
Currently there are only four Veterans Affairs facilities equipped to undertake TBI treatment, which necessitates lengthy travel for those in need of treatment. The Richmond VA medical facility is the nearest treatment center for West Virginia veterans.
"Traumatic brain injury is one of the most challenging afflictions facing our military men and women," said Capito. "Treatment is extensive and specialized, placing an incredibly difficult burden on military families who must often travel great distances for treatment. My legislation is geared towards easing that burden by creating avenues for treatment closer to home."
An injury commonly associated with U.S. efforts in Iraq and Afghanistan, TBI can lead to a wide range of symptoms that range from persistent head-aches to extreme memory loss, seizures and dramatic personality changes. Approximately 20 percent of all injuries in Iraq and Afghanistan involve TBI and is often accompanied by post-traumatic stress disorder (PTSD) which can complicate TBI recovery efforts.
The congresswoman on Wednesday also offered her words of thanks and remembrance for U.S. service men and women, particularly in light of Tuesday's memorial service at Fort Hood.
"As our nation continues to mourn the tragic and incomprehensible loss of life at Fort Hood, it's even more important that we re-commit ourselves to supporting and honoring our nation's military men and women," said Capito.
"On this day when we remember and honor our nation's veterans, let us also remember the burden carried by our military families. Just as we thank our Soldiers, Sailors, Airmen and Marines, we must also thank their loved ones who support them and serve along-side them."
"Our nation is truly in their debt, and I hope all West Virginians will take a moment today to reflect on the sacrifices made by our service members and their families. Our veterans have earned at least as much."