WASHINGTON – Rep. Shelley Moore Capito, R-W.Va., released the following statement this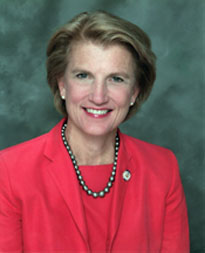 afternoon regarding her letter to West Virginia's Department of Health and Human Resources seeking clarification on the impact Speaker Nancy Pelosi's health bill will have on the state budget:
"States across our nation are facing the prospect of budget cuts and difficult financial choices," said Capito. "West Virginia is no different, and I remain concerned that the health bill under consideration in the House may make these financial challenges even more difficult with an unfunded Medicaid mandate."
"While we all support the goal of covering uninsured Americans, the Speaker's move to expand Medicaid stands to shift hundreds of millions of dollars in costs to financially-strapped states. I believe it's critical that we understand the additional price tag West Virginia taxpayers may face as a result of this legislation."
*** Full text of the congresswoman's letter can be found below. ***
---------------------------------------------
November 6, 2009
Ms. Patsy A. Hardy
Secretary
West Virginia Department of Health & Human Resources
State Capitol Complex, Building 3 Room 206
Charleston, West Virginia 25305
Dear Secretary Hardy:
As Congress prepares to conclude debate on House Speaker Nancy Pelosi's plan to reform our nation's health care system, I believe it is critical that we understand how her plan could impact budgets at the state level, including in West Virginia.
As currently written, H.R. 3962 – the Affordable Health Care for America Act – demands that each state increase Medicaid enrollment levels to 150% of the federal poverty level. In turn, H.R. 3962 proposes that the federal government cover this cost for the first two years, but beginning in 2015 the state of West Virginia would be required to cover nearly 10% of this increase. This could lead to a troubling unfunded mandate for state governments.
The National Conference of State Legislatures estimates that increasing Medicaid eligibility to 133% of the federal poverty level, while capping the FMAP at 95% would add $178 million to West Virginia's state budget in 2014-2019. Given these numbers, it appears that a further expansion of eligibility to 150% of the federal poverty level, along with a lower federal compensation rate could lead to a significant burden on our state budget. For this reason, I write seeking your estimate of how these projected obligations would impact the state of West Virginia.
Thank you for your commitment to the people of West Virginia, and I look forward to hearing from you on this matter.
Sincerely,
Shelley Moore Capito, M.C.